English For Fun
Where tomorrow's leaders THRIVE!
The 21st Century is here and we are learning all too quickly that the educational systems of the past are no longer valid for 2020, let alone the future!
What matters now?
Complex Problem Solving
Community and Teamwork (CARE)
Perseverance and Resilience (Goals, GRIT)
Communication in multiple languages (English)
Customer Service (Empathy, Compassion and Kindness)
"Soft Skills" (Emotional Intelligence)
No FEAR
English for Fun is a learning laboratory where children and adults are empowered to take risks and try new things. We collaborate with the best research institutes throughout the world in order to bring quality education to Spain and now, to the world!
This is a story of Passion, Perseverance and Resilience
It began back in childhood…
"Sit still!"
"Stop talking!"
"You will never learn anything if you don't sit in your desk and do what I say!"
"You're you're too active!"
"Did your brain get baked in Hawaii?"
"Stop laughing!"
"Learning is not supposed to be FUN!"
By a girl who refused to listen to, "NO!"
English for Fun is a love story…love of education!
Curiosity cannot be bought, it is trained and developed over time through a love of learning that starts in the beginning of life.
Curiosity will take us a lot further than memorizing for a test.
Curiosity brings us true JOY in everything that we do!
The English for Fun methodology is designed for building curiosity. It is a mindset!
Why is JOY so important?
People who live with FEAR, live without joy. A life without joy is not worth living. We spend the majority of our day working so we should really educate children to combine work and joy for a happier life!
Ask yourself…
Do you know what JOY at work looks like?
Are you lucky enough to do that THING that you love so much that you would do it for FREE?
If not…
A job that is nothing more than a paycheck is BORING and unfulfilling and it leads to a FIXED Mindset.
Do you really want that life for your child?
Lets do more for our kids, by preparing them for anything that will happen in the 21st century!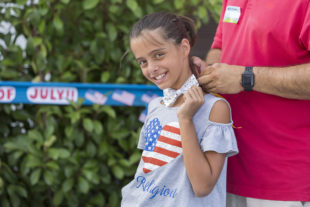 Quality education is the MOST important gift for our children and it feels great when we are able to give them opportunities that we didn't have.
Starting out life with proper Executive Function Skills already built into the brain, through the best practices in education, means that a child will grow up confident and self-assured. We want our children to have no FEAR!
Imagine if you were taught properly in Science, Technology, Engineering, Art, Math, Music (S.T.E.A.M.M.)…
How would your life be different today? We all have adult FEARs that are rooted in early childhood, so lets raise the next generation right!
Do you know how to love your job and make a difference in the world? It is easy when you are passionate about what you do!
#thisisenglishforfun
No FEAR
FEAR is at tricky thing and it is literally ruining the world right now but FEAR elimination has always been our thing! We have seen, first hand, what FEARful people are capable of and we believe that if we don't teach children to stand up to FEAR, the world will continue to spiral out of control.
But the funny thing about FEAR is that it is easy to eliminate as long as the FEARless take grow in numbers.
How? Through self-efficacy and that happens through teaching people how to think! QUALITY EDUCATION is the answer to transition the world from FEAR into FARCE (definition-big fakers)!
A FUN and Effective Method for Learning
English for Fun is an American educational company, with classrooms online and offline. We use English immersion to train our students in "soft skills" such as empathy, respect and flexibility. This helps them to compete and be prepared for the changing world of the 21st century. Students develop all of the important life skills in English. We educate to develop independence and build on a child's strengths, without damaging the self-esteem.
Our team of teachers are multicultural, committed and highly educated in pedagogy. We create an environment that facilitates the individualized learning of each child.
We think that educating and learning is FUN. Our methodology is based on the educational philosophy of Reggio Emilia, Emmi Pikler, Waldorf and Howard Gardner. Our expertise in early childhood education is matched with a strong background in second language development. We believe that learning should be active and based on experiences in the real world. This encourages children to play, feel, explore and discover.
At English for Fun, speaking English is something natural, fun and spontaneous!
We empower children and families and teach them to develop communication skills, creativity, critical thinking, emotional intelligence, decision making and cognitive flexibility.
100% of our students enter the best schools in Madrid and abroad because their opportunities increase when they develop a second language in parallel to the first (or second one). We believe that children are born smarter than an adult and if we respect them from the beginning, they will reach their full potential.
Instead of frustrated adults who hate their work, which is a product of traditional education, English for Fun creates adults ready to confront problems they face with dignity and confidence. An English for Fun student finds joy in the challenges of the uncertain and changing world that awaits us.
We say…BRING IT ON!